Foothill Ranch Hotel Services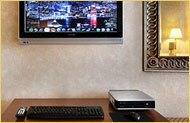 Business and leisure travelers will be delighted with the warm atmosphere of our hotel. Plus they'll find our innovative and convenient services unparalleled:
Select rooms
include in-room computer featuring fast internet and applications perfectly suited for business or entertainment. Our warm and professional staff is available 24 hours a day, and can assist with copy and fax services. The hotel also has a meeting room facility for corporate meetings, laundry valet service, and a coin operated guest laundry facility. Bringing the family pet to on your trip to Southern California? Rover can stay with you in one of our specially designated pet friendly rooms.

Hotel Transportation.
We recommend Supershuttle.

Corporate " Hotel Shuttle" Available!
For our select corporate guests,
Prominence Hotel and Suites is now offering
Complimentary Transportation to and from your Office.


Certified Pure Therapeutic Oils.
Enjoy the inviting scents of Certified Pure Therapeutic Grade Essential Oils are diffused throughout the hotel .


Comfortable Accommodations.
EcoMemory Foam, by EcoSeries, Offers Unparalleled Comfort with a Patented Heat-Resistant Design, unlike traditional memory foams.

Our Coffee Served is Rain Forest Alliance Certified.
The Prominence Hotel serves Rain Forest Alliance Certified Coffee that's delicious and sustainable! To learn more about the Rainforest Alliance, you can
watch their latest video here.

Premium EcoPure Personal Care Amenities.
Our Premium EcoPure Personal Care Amenities Offer Guests a Refreshing, Guilt-free Bathing Experience. You'll also sleep soundly knowing our staff uses natural and environmentally safe cleaning and maintenance products. Our rejuvenating line of personal care amenities even features 100% bio-degradable packaging and contents.
A stay at the Prominence Hotel and Suites is sure to be enjoyable and memorable. Environmentally Responsible Products feature 100% bio-degradable packaging and Amenities. For more information, you can
watch their latest video here.

On-Site Irvine Hotel Fitness Centers.
Stay fit on your travels with our outdoor heated pool and jacuzzi where you can take a refreshing dip, or catch a few rays of California sun.